Who Makes Things Happen at Paper Toy LLC? Meet Santana!
12 People Who Make Things Happen for Kids in Houston

Who makes things happen at Paper Toy LLC?
Meet Santana Draper!
Paper Toy LLC
Santana Draper's joy has been to create and donate from the time he was very young. At just age 11, he is the youngest member of our list. Santana is a self-taught visual artist. Upon seeing hurricane devastation on the news, he couldn't stop talking about doing something to help people. He combined his artistic talent and his desire to help peers to create Paper Toy, LLC, by designing graphic T-shirts. Proceeds of his sales go to Kids Meals of Houston. Santana has donated 700 meals to-date and counting. 
What does your job entail?
My main job includes creating art to be displayed on my company's apparel and making sure my favorite charity "Kids Meals of Houston" receives donations from my company, Paper Toy.
How did you become involved in working with your organization?
I had an idea and then created my company at age 9 and have been heavily involved since then. 
What is the most fun part of your job?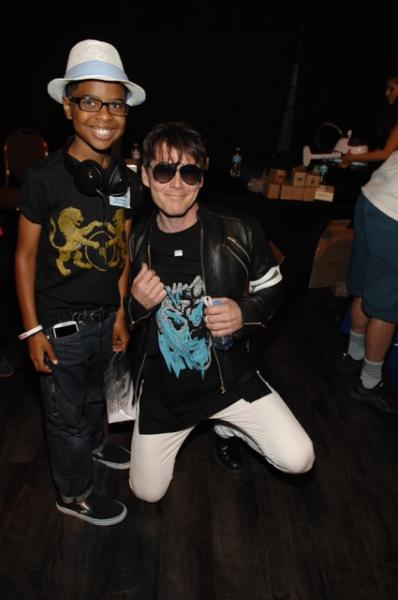 My favorite part would be creating art, meeting with my fans and serving others thru donating to "Kids Meals of Houston".
How did you get started in your field of work?
I began teaching myself to sketch at age 4.
What are some of your favorite events at your organization?
I really like all the events at Paper Toy but I feel really at home when I am at The Houston Bayou City Arts Festival.
What kind of unusual things have you done in the course of your job there?
Well because I am the boss of my own company, Paper Toy, I have done pretty much all sorts of things like waking up at 4 am and going to bed at 10 pm once to finish a sketch.
Tell us a little about your life outside of your work?
I am a 'Lil" brother and when I am not working I am cracking jokes with my older siblings.
What other interests do you have in the community?
I am super interested in promoting awareness against any form of Bullying with the focus on the Bully and why a Bully Bullies.
Do you have any new events in the upcoming year?
Yes you will be able to see me and my apparel collection at ESPN XGames Austin June 2014!
What are some great ways that parents can get kids interested in helping out?
They can follow me on Twitter and Facebook and sign up for my monthly blog at www.papertoyclothing.com.
Tell us a few fun facts about yourself:
I like crawfish, greek yogurt and Japanese seed plums. One of my favorite bands is 30 seconds from Mars and I want to be a Martian!
What is your favorite quote?
Talent plus work ethic is the key to success!
---
Click here to get back to the main article: 12 People Who Make Things Happen for Kids in Houston