Nacogdoches - An East Texas Gem
By Stacy Curtis
Aside from the fun of saying Nacogdoches, the area itself is a wonderfully fun place to travel to. With national forest land spreading out on three sides Nac abounds with natural scenery. If you're traveling through east Texas, you might want to stop and stay a while near the "Oldest Town in Texas". Yes, Nacogdoches boasts evidence of settlement that dates back 10,000 years! 
Just a short drive from Houston (2.5 - 3 hours), Dallas (3 - 3.5 hours) or Shreveport (1.5 hours), Nacogdoches provides both history and excitement for day-trippers or those who want to sit a spell! What's a modern-day adventurer to do in Nac? Read on to find out...
---
Nacogdoches County is the top blueberry producer in Texas. That's why they host the Texas Blueberry Festival on the second Saturday in June. People come from all over to share their blueberry wares and participate in the pageants and contests.
You haven't seen a real pie eating contest until you've seen a blueberry pie eating contest! Here's my review of the Texas Blueberry Festival where we had our pick from a Forest Gump-worthy selection: blueberry bread, blueberry funnel cakes, blueberry bbq sauce, blueberry jam, blueberry lemonade....you get the picture.  
---
If you want some excitement, try ziplining among the pines and hardwoods at Zip Nac.  But if you REALLY want some excitement, try night ziplining there!  To find out if night ziplining is good for kids and the best way to help children (or adults) get over their fear, see my review of Zip Nac here.
---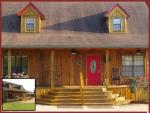 Treat yourself to a unique bed & breakfast experience....one with zip lines in in the front and back yards! Zip Inn is connected to Zip Nac and is one of the most reasonably-priced B&B's around.  Plus you can fish, play, cookout, explore, and of course...ZIP! Read my review of Zip Inn here.
Is there another venue near Nacogdoches, or anywhere around Texas, that you'd like to find out more about? Email me at stacy@kidsoutandabout.com.
* * *