Address:
2615 southwest Freeway, Ste. 260
Houston
,
TX
,
77098
29° 43' 46.7544" N, 95° 25' 12.5508" W
Business/organization type:
What our organization offers:
Seasons in which we offer activities (select "All seasons" for all):
Ages for which our activities are most appropriate:
Krav Maga is an Israeli-developed self-defense program that provides the best skill-building workout on the planet. Krav Maga Houston's Fit & Fearless Program provides children with a foundation in fitness, self-protection and mental toughness.
KRAV MAGA HOUSTON
Krav Maga is the most effective battle-tested, self defense system in the world – designed for men, women, and kids. Learning Krav Maga offers practitioners REAL SELF DEFENSE SOLUTIONS to REAL ATTACKS and THREATS, as well as, a great physical fitness exercise workout. Krav Maga is called "the best skill-building workout on the planet" for a reason!
Krav Maga Houston is the world's largest Krav Maga training center and has recently and affectionately been dubbed "The Farm" by other trainers for the Houston school's consistent, decade long history of producing high level Krav Maga instructors.
Krav Maga Houston's Youth Program is designed to support kids in three critical areas of development:
(1) MOTOR SKILLS: We address all 10 domains of fitness (strength, speed, endurance, agility, balance, coordination, stamina, power, flexibility and accuracy) through a broad range of functional movements and exercises.
(2) SELF PROTECTION: We teach elements of REAL self-defense, utilizing movements from Boxing, Muay Thai, Freestyle and Greco-Roman Wrestling, Judo and Jujitsu to form the core of the program. These elements are combined with the scenario-based defensive tactics of Krav Maga to help safeguard your child from bullies and other potential threats.
(3) MENTAL TOUGHNESS: We challenge your child with individual and team fitness events. We celebrate both personal victories and competitive successes. We teach the value of hard work and illustrate the payoffs in improved performance, enchanced self-efficancy, and the respect earned from others inside and outside the class. Krav Maga Houston's Youth Program creates an environment where kids can learn and live some of life's most valuable lessons.
Our program reinforces earned self-confidence, functional fitness, tactical language, self-defense and leadership skills to help your child effectively take on life's many challenges. Your first class is FREE! Give us a call now!
713-526-2500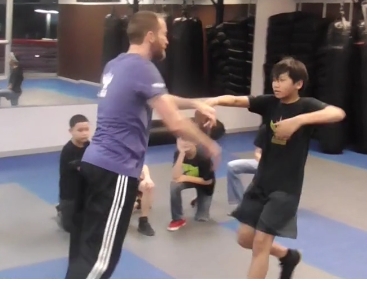 Schedule:
Ages 5-8
Tues/Thurs: 4:30-5:15pm
Fri: 5:30-6:15pm
Saturday: 10:35-11:15am
Ages 9+
Tues/Thurs: 5:15-6:00pm
Fri: 6:15-7:00pm
Saturday: 11:15am-12:00pm
Organization learning resources